2020 Graduation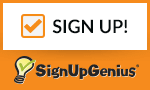 SENIOR FAMILIES: Click the SIGN UP! icon to the left to reserve your graduation time slot! 
Times:
Monday, May 18: 9:00 a.m. – 2:00 p.m. (last appointment, 1:40 p.m.)
Tuesday, May 19: 3:00 p.m. – 8:00 p.m. (last appointment, 7:4o p.m.)
Wednesday, May 20: 12:00- 5:00 p.m. (last appointment, 4:40 p.m.)
Thursday, May 21: 3:00-8:00 p.m. (last appointment, 7:40 p.m.)
Friday, May 22: 9:00 a.m. – 2:00 p.m. (last appointment, 1:40 p.m.)
May 16, 2020
This week is commencement week and we are happy that it is finally here! A lot of people have worked hard to make this happen and several will be at the school working this event. To honor those who are working to make this experience great for you and your family, we want to ensure you are safe, your family is safe, as well as the staff and their families are safe. There are three general rules that will be strictly enforced.
Please arrive five minutes before your scheduled time so you are on time to your appointment. We have 20 minutes between each appointment. If you arrive 10 minutes after your scheduled time, you will have to reschedule. No exceptions.
Graduates may have up to four guests accompany them into the building. Again, this is for safety purposes of all participants involved. We will have staff stationed outside in the parking lot, in the foyer, and in the gymnasium. No more than five individuals in a party will be allowed to enter the school.
All individuals in the graduate's party must have on face masks. The graduate has a choice of whether or not to wear a face mask, but all other members must don the face mask before entering the building. If you do not have a face mask, admittance to the building will be denied. All staff working in the building are also required to wear masks.
————————————
May 7, 2020
Hello Class of 2020 Families!
We would like to supply you with some information about how graduation days will look.  This is to ensure things run smoothly while we comply with state and county mandates.
Arrive five minutes before your scheduled time (

you will only be permitted into the building during your time slot

)

No more than four (4) guests may accompany the graduate.

All guests of the graduate are required to wear a mask.

Park in front of the gymnasium entrance to the building.

At your scheduled time, proceed through the entrance and enter the building.

Stop at the gym doors to receive any final instructions.

Graduate will walk to the stage and wait for their name to be called.

Graduate will proceed up and across the stage, receive their diploma, and proceed off stage.

Guests may take pictures as they wish, but please be mindful of the camera filming the event.

We are requesting that families and guests arrive and depart promptly within your scheduled time frame to avoid delays in the ceremonies.
Please remember that students need to be dressed appropriately, and in cap and gown. Boys-dress pants, button down and tie. Girls-dress pants/skirt and nice shirt, or dress. Please contact Mrs. Turon, Mrs. Peters or Mrs. DeRamo if help is needed regarding this matter.
With everyone's help, we hope to make this a memorable occasion for our graduates. Thank you for your help and understanding.
——————————————–
Chromebook turn-in and checkout. Students need to return Chromebooks and charger in the condition they were given to you. Fees must be paid at this time. See your Chromebook contract for amounts. If you have any items stored on your Chromebook or Gmail, please make sure to save them as everything will be deleted.
The Chromebook needs to have all stickers/adornment removed by the student except for the Cardinal School District tag(s) on the back.  Adhesive residue needs to be used if needed. I would recommend Goo Gone.
The Chromebook also needs to have enough charge to turn on.  Broken screens or any damage not covered by warranty is a cost of $230, missing power cords (cannot be a phone charger) $39.88. If you need help transferring documents, see our Tech Director or Mrs. Jerina.
The following items must be turned in if students plan to receive their diplomas when they walk. Students missing items or not having coursework completed by this date will have their diplomas withheld until all items are completed. 
Chromebooks and cords
Hot spots for those that may have gotten one
Any course work that you have not already turned in
Any textbooks you may have
Any fees still outstanding must be paid
All community service forms must be turned in
Also on this day, we will distribute caps and gown and yard signs.
——————-
April 28, 2020
Clarification about Graduation and Current Plan
Dear Families of the Class of 2020,
It appears some clarification is needed following the update we sent out Friday April 24, 2020. We will have a graduation ceremony. What it looks like and how we proceed will be different from a traditional ceremony. This is a decision made by our governor and the Ohio Department of Education; it is a decision that has been made for each school in Ohio. There is an order in place across the state that prevents large gatherings.
As stated in previous meetings and communications, we are committed to having a graduation ceremony for the Class of 2020. We had planned out five specific dates for graduation to allow for restrictions to be lifted so that we could celebrate the accomplishments of our scholars. Our plan changed as of Thursday, April 23 at 4:16 p.m. when we received a recommended directive from the Ohio Department of Education that stated:
"Governor DeWine, during his press conference on Monday, April 20, stated, "the gathering of significant numbers of people is a dangerous situation. Just as schools have been innovative regarding how to teach from a distance, I know that they will be innovative as they look at how…they honor the students…" We are asking the education community to come together and honor our students, especially our seniors, in a manner that doesn't pose health risks to anyone. Schools should continue to recognize the importance of restrictions on mass gatherings, and
events should be aligned with the Ohio Department of Health's Order."
In response to this communication by O.D.E. and Governor DeWine's order, our team immediately began to look other options that would ensure the safety of our scholars and families in considering a graduation ceremony. We reached out to O.D.E. on a plan where we could do graduation by appointment. The source at O.D.E. stated it would conflict with Governor DeWine's order. At that point, I drafted a letter to Governor DeWine explaining a detailed
contingency plan which highlights the following information:
"We were looking at setting up our gym for graduation and making individual appointments for our approximately 85 scholars. That way, their immediate family could enjoy their graduate walking across the stage, receiving their diplomas, getting their picture taken, and exiting the building. This would address the no mass gatherings order as we would schedule appointments at twenty-minute intervals. We could schedule set hours on particular dates. We would be cleaning and disinfecting the trafficked area constantly throughout the days of appointments. Much like
businesses are doing as we begin to reopen.
We would take the necessary precautions of social distancing, there would be a sign-in sheet (for tracing if needed), and we would take temperatures to ensure no one had a fever entering our building. If a person's temperature is 100 degrees or higher, they will be asked to leave. Parents (in masks) could accompany the graduate in their caps and gowns and take pictures. We would eliminate the mass gathering by promoting an individual ceremony. We would videotape each scholar receiving their diploma and put together a video combining all those graduates receiving
their diplomas. Our valedictorian and salutatorian would still give their speeches in an empty gym that would also be added to the video."
That is an excerpt of my letter sent to Governor DeWine. Here is the plan. We will be inviting seniors and their immediate family members at an appointed time to arrive at Cardinal High School gymnasium. Three appointments per hour on the dates we will prescribe. Graduates and families will be safely staged and, when it is their time, brought into the gymnasium. Each senior will have their name read, walk across the stage in cap and gown and receive their diploma. Families and the graduate will be in the gymnasium and when the graduate leaves the stage, all will exit the gymnasium together. The next student will arrive 20 minutes later. Thus, eliminating mass gatherings and allowing for a ceremony to take place.
We are working to secure a videographer who will film each student receiving their diploma. The videographer will then edit the film and create a virtual ceremony that will show all students receiving their diplomas as well as the various speakers. The final version will be shared with families and the public. Photographers will be on-hand to take pictures as well.
As always, we will keep everyone informed as we proceed. Thank you.
Sincerely,
Dr. Markiel J. Perkins
Principal, Cardinal High School
markiel.perkins@cardinalschools.org